Motivational Poems – An Uplifting And Inspiring Collection of Poems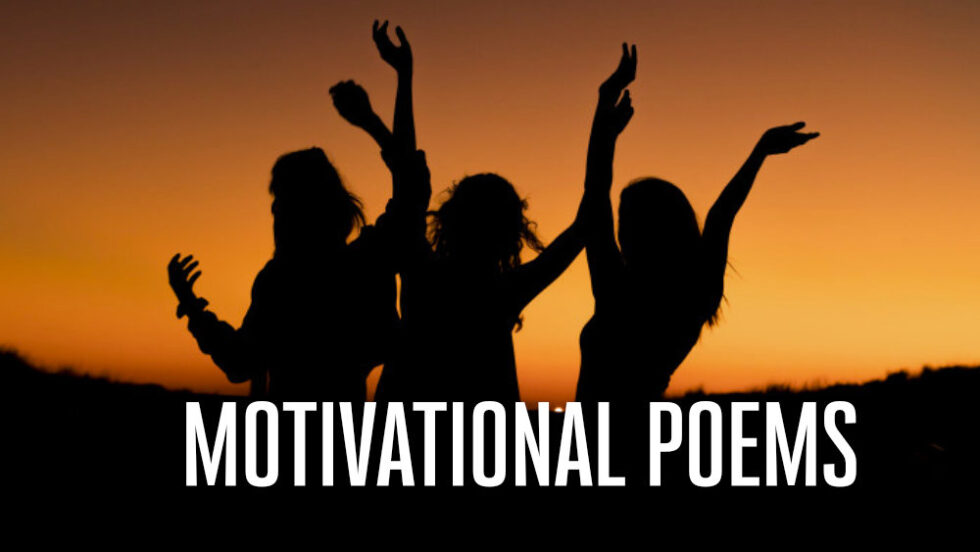 Rene carefully took the time out of his busy schedule to select these motivational poems for you. They will inspire you and keep you excited about your dreams. Read them out aloud and with conviction. Don't ever give up on your dreams! As long there's breath in you, there's hope. Cheer yourself up! Simply put, talk yourself into being happy with the motivational poems below.
Don't Quit Motivational Poem
When things go wrong as they sometimes will;
When the road you're trudging seems all uphill;
When the funds are low, and the debts are high;
And you want to smile, but you have to sigh;
When care is pressing you down a bit
Rest if you must, but don't you quit.
Success is failure turned inside out;
The silver tint of the clouds of doubt;
And you can never tell how close you are;
It may be near when it seems afar.
So, stick to the fight when you're hardest hit –
It's when things go wrong that you mustn't quit.
by Edgar A. Guest
More Motivational Poems
The Will to Win: Motivational Poems About Determination
(one the most classic motivational poems)
If you want a thing bad enough
To go out and fight for it,
Work day and night for it,
Give up your time and your peace and
your sleep for it
If only desire of it
Makes you quite mad enough
Never to tire of it,
Makes you hold all other things tawdry and cheap for it
If life seems all empty and useless without it
And all that you scheme and you dream is about it,
If gladly you'll sweat for it,
Fret for it, Plan for it,
Lose all your terror of God or man for it,
If you'll simply go after that thing that you want.
With all your capacity,
Strength and sagacity,
Faith, hope and confidence, stern pertinacity,
If neither cold poverty, famished and gaunt,
Nor sickness nor pain
Of body or brain
Can turn you away from the thing that you want,
If dogged and grim you besiege and beset it,
You'll get it!
— Berton Braley
More Motivational Poems
Promise Yourself – The Optimist Creed
Promise yourself to be so strong that nothing can disturb your peace of mind.
To talk health, happiness, and prosperity to every person you meet.
To make all your friends feel like there is something in them.
To look at the sunny side of everything and make your optimism come true.
To think only of the best, to work only for the best, and expect only the best.
To be just as enthusiastic about the success of others as you are about your own.
To forget the mistakes of the past and press on the greater achievements of the future.
To wear a cheerful countenance at all times and give every living person you meet a smile.
To give so much time to the improvement of yourself
that you have no time to criticize others.
To be too large for worry, too noble for anger, and too
strong for fear, and to happy to permit the presence of trouble.
The Optimist Creed From The Optimist International
More Motivational Poems
I Am A Soldier In The Army Of God Motivational Poem
I am a soldier in the army of God. The Lord Jesus Christ is my commanding officer. The Holy Bible is my Code of Conduct. Faith, prayer, and the Word are my weapons of warfare. I have been taught by the Holy Spirit, trained by experience, tried by adversity and tested by fire.
I am a volunteer in this army and I am enlisted for eternity. I will either retire in this army at the rapture or die in this army; but I will not get out, sell out, be talked out, or pushed out.
I am faithful, reliable, capable and dependable. If my God needs me, I am there. If He needs me in the Sunday school, to teach the children, work with the youth, help adults or just sit and learn. He can use me because I am there.
I am a soldier. I am not a baby. I do not need to be pampered, petted, primed up, pumped up, picked up or pepped up. I am a soldier. No one has to call me, remind me, write me, visit me, entice me, or lure me. I am a soldier. I am not a wimp.
I am in place, saluting my King, obeying His orders, praising His name, and building His kingdom! No one has to send me flowers, gifts, food, cards, candy or give me handouts.
I do not need to be cuddled, cradled, cared for, or catered to. I am committed. I cannot have my feelings hurt bad enough to turn me around. I cannot be discouraged enough to turn me aside. I cannot lose enough to cause me to quit.
When Jesus called me into this army, I had nothing. If I end up with nothing, I will still come out ahead. I will win. My God has and will continue to supply all of my needs I am more than a conqueror. I will always triumph. I can do all things through Christ. The devil cannot defeat me. People cannot disillusion me.
Weather cannot weary me. Sickness cannot stop me. Battles cannot beat me. Money cannot buy me. Governments cannot silence me and hell cannot handle me. I am a soldier. Even death cannot destroy me. For when my Commander calls me from this battlefield,
He will promote me to Captain and then allow me to rule with Him. I am a soldier in the army, and Im marching, claiming victory. I will not give up. I will not run around. I am a soldier, marching heaven bound.
Author ©B.J. Morbitzer
More Motivational Poems
When Tomorrow Starts Without Me
When Tomorrow Starts Without Me
When tomorrow starts without me, and I'm not there to see,
If the sun should rise and find your eyes,
all filled with tears for me,
I wish so much you wouldn't cry, the way you did today,
While thinking of the many things we didn't get to say.
I know how much you love me, as much as I love you,
And each time that you think of me,
I know you'll miss me too.
But when tomorrow starts without me, please try to understand,
That an angel came and called my name and
took me by the hand.
And said my place was ready in Heaven far above,
And that I'd have to leave behind, all those
things I dearly love.
But as I turned to walk away, a tear fell from my eye,
For all my life, I'd always thought, I didn't want to die.
I had so much to live for, so much yet to do,
It seemed almost impossible, that I was leaving you.
I thought of all the yesterdays, the good ones and the bad,
I thought of all the love we shared, and all the fun we had.
If I could relive yesterday, just even for a while,
I'd say goodbye and kiss you, and maybe
see you smile.
But then I fully realized, that could never be,
For emptiness and memories, would take
the place of me.
And when I thought of worldly things, I might
miss come tomorrow,
I thought of you, and when I did, my heart was
filled with sorrow.
But when I walked through Heaven's gates,
I felt so much at home.
When God looked down and smiled at me,
from his great golden throne.
He said, "This is eternity, and all I've
promised you.
Today your life on Earth is past, and
here it starts anew".
"I promise no tomorrow, but today will always last,
And since each day's the same day, there's
no longing for the past".
"But you have been so faithful, so trusting and so true,
Though there were times you did some things,
you know you shouldn't do".
"But you have been forgiven, and now at
last you're free,
So won't you take my hand now and share
My life with Me".
So when tomorrow starts without me, don't
think we're far apart,
For every time you think of me, I'm right here
in your heart.
–by Erica Shea Liupaeter
More Motivational Poems
May The Start Carry Your Sadness Away
May the stars carry your sadness away,
May the flowers fill your heart with beauty,
May hope forever wipe away your tears,
And, above all, may silence make you strong.
–Chief Dan George
---
Dance
As though no one is watching you.
Love
as though you have never been hurt before.
Sing
as though no one can hear you.
Live
as though heaven is here on earth.
---
Candle In The Wind Tribute To Princess Diana
(one the most classic motivational poems)
Goodbye England's Rose
May you ever grow in our hearts.
You were the grace that placed itself
Where lives were torn apart.
You called out to our country,
And you whispered to those in pain.
Now you belong to heaven,
And the stars spell out your name.
And it seems to me you lived your life
Like a candle in the wind,
Never fading with the sunset
When the rain set in.
And your footsteps will always fall here,
Along England's greenest hills;
Your candles burned out long before
Your legend ever will.
Loveliness we've lost;
These empty days without your smile.
This torch we'll always carry
For our nation's golden child.
And even though we try,
The truth brings us to tears;
All our words cannot express
The joy you brought us through the years.
And it seems to me you lived your life
Like a candle in the wind,
Never fading with the sunset
When the rain set in.
And your footsteps will always fall here,
Along England's greenest hills,
Your candles' burned out long before
Your legend ever will.
Goodbye England's Rose
May you ever grow in our hearts.
You were the grace that placed itself
Where lives were torn apart.
Goodbye England's Rose,
From a country lost without your soul,
Who'll miss the wings of your compassion
More than you'll ever know.
And it seems to me you lived your life
Like a candle in the wind,
Never fading with the sunset
When the rain set in.
And your footsteps will always fall here,
Along England's greenest hills,
Your candles' burned out long before
Your legend ever will.
ELTON JOHN
---
24 Interludes of Life
This is dedicated to my wonderful friends who enrich my life with the treasure of their being. May your soul decisions always be made with your heart, and not with your head.
1. Don't go for looks, they can deceive. Don't go for wealth even that fades away. Go for someone who makes you smile.
2. There are moments in life when you really miss someone that you want to pick them up from your dreams and hug them. Hope you dream of that someone.
3. Dream what you want to dream, go where you want to go, be what you want to be, because you have only one life and one chance to do all the things you want in life.
4. May you have…Enough happiness to make you sweet
Enough trials to make you strong
Enough sorrow to keep you human
Enough hope to make you happy
And enough money to keep you comfortable.
5. When one door of happiness closes, another opens. But we often took so long at the closed door, that we don't see the one which has been opened for us.
6. The best kind of friend is the one you could sit on a porch, swing with, never saying a word and then walk away feeling like that was the best conversation you've had.
7. It's true that we don't know what we've got until we lose it, but it's also true that we don't know what we've been missing until it arrives.
8. Always put yourself in other's shoes. If you feel that it hurts you, it probably does hurt the person too.
9. A careless word may kindle a strife;
A cruel word may wreck a life
A timely word may level stress
A lovely word may heal and bless.
10. The beginning of love is to let those we love be perfectly themselves and not to twist them with our own image, otherwise we love only the reflection of ourselves we find in them.
11. The happiest people don't necessarily have the best of everything, they just make the most of everything that comes along the way.
12. Maybe God wants us to meet a few wrong people before meeting the right one so that when we finally meet the right person, we should know how to be grateful for that gift.
13. It takes a minute to have a crush on someone, an hour to like someone and a day to love someone, but it takes a lifetime to forget someone.
14. Happiness lies for those who cry, those who hurt, those who have searched and those who have tried. For only they can appreciate the importance of people who have touched their lives.
15. Love is when you take away the feeling, the passion, the romance and find out you still care for that person.
16. A sad thing about life is that when you meet someone who means a lot to you only to find out in the end that it was never bound to be and you just have to let go.
17. Love starts with a smile, develops with a kiss and ends with a tear.
18. Love comes to those who still hope even though they've been disappointed, to those who still believe even though they've been betrayed, need to love those who still love, even though they've been hurt before.
19. It hurts to love someone, and not to be loved in return but what is most painful is to love someone and never finds the courage to let the person know how you feel.
20. The brightest future will always be based on a forgotten past. You can't go on well in life until you let go of your past failures and heartaches.
21. Never say goodbye when you still want to try;
Never give up when you still feel you can take it;
Never say you don't love that person anymore when you can't let go.
22. Giving someone all your love is never an assurance that they'll love you back. Don't expect love in return, just wait for it to grow in their hearts but if it doesn't, be content it grew in yours.
23. There are things you love to hear but you would never hear it from the person whom you would like to hear it from, but don't be deaf to hear it from the person who says it with his heart.
24. When you were born, you were crying and everyone around you was smiling. Live your life to the fullest so that when you die, you're smiling and everyone around you is crying.
– Author Unknown
---
A Creed to Live By
Don't undermine your worth by comparing
yourself with others,
It is because we are different that each
of us is special.
Don't set your goals by what other people
deem important,
Only you know what is best for you.
Don't take for granted the things closest
to your heart
Cling to that as you would your life, for without
them life is meaningless.
Don't let your life slip through your fingers by living
in the past or the future.
By living your life one day at a time, you live all the
days of your life.
Don't give up when you still have something to give
Nothing is really over until the moment
you stop trying.
Don't be afraid to admit that you are less
than perfect,
It is the fragile thread that binds us to each other.
Don't be afraid to encounter risks,
It is by taking chances that we learn how to be brave.
Don't shut love out of your life by saying it's
impossible to find.
The quickest way to receive love is to give love.
The fastest way to lose love is to hold on too tightly,
And the best way to keep love is to give it wings.
Don't dismiss your Dreams. To be without
dreams is to be without hope.
To be without hope is to be without purpose.
Don't run through life so fast that you forget
where you've been,
But also know where you're going.
Life is not a race, but a journey to be savored
every step of the way.
-Author Unknown
---
If I Had My Child To Raise Over Again
If I had my child to raise all over again,
I'd build self-esteem first, and the house later.
I'd finger paint more, and point the finger less.
I would do less correcting and more connecting.
I'd take my eyes off my watch, and watch with my eyes.
I would care to know less and know to care more.
I'd take more hikes and fly more kites.
I'd stop playing serious, and seriously play.
I would run through more fields and gaze at more stars,
I'd do more hugging and less tugging.
I'd see the oak tree in the acorn more often,
I would be firm less often, and affirm much more.
I'd model less about the love of power,
And more about the power of love.
–Diane Loomans
---
I Resign
I am hereby officially tendering my resignation as an adult.
I have decided I would like to accept the responsibilities
of an 8-year-old again.
I want to go to McDonald's and think that it's a four star restaurant.
I want to sail sticks across a fresh mud puddle and
make ripples with rocks.
I want to think M&Ms are better than money because
you can eat them.
I want to lie under a big oak tree and run a lemonade
stand with my friends on a hot summer day.
I want to return to a time when life was simple.
When all you knew were colors, multiplication tables,
and nursery rhymes,
but that didn't bother you, because you didn't know what
you didn't know and you didn't care.
All you knew was to be happy because you were blissfully unaware of all the things that should
make you worried or upset.
I want to think the world is fair.
That everyone is honest and good.
I want to believe that anything is possible.
I want to be oblivious to the complexities of life and
be overly excited by the little things again.
I want to live simple again.
I don't want my day to consist of computer crashes, mountains of paperwork, depressing news,
how to survive more days in the month than there is
money in the bank, doctor bills, gossip,
illness, and loss of loved ones.
I want to believe in the power of smiles, hugs, a kind
word, truth, justice, peace, dreams, the imagination,
mankind, and making angels in the snow.
So…here's my checkbook and my car keys, my credit
cards and all my responsibility.
I am officially resigning from adulthood.
And if you want to discuss this further, you'll have to
catch me first, 'cause,
"Tag! You're it."
---
A Child to Love
You can have your wealth and riches
All the things so many seek,
Position, power, and success,
The fame you long to keep.
You can earn as much as you wish,
Reach a status high above,
But none of these can equal
Having one sweet child to love.
'Tis the greatest gift from heaven,
Little arms that hold you tight,
And a kiss so soft and gentle
When you tuck them in at night.
A million precious questions
And each story often read,
Two eyes so bright and smiling,
And a darling tousled head.
God has never matched the goodness
Of a trusting little face,
Or a heart so full of laughter
Spreading sunshine every place.
A child to hold and cuddle,
'Tis a gift from God above,
And the world is so much brighter
When you have a child to love.
-Kelly Marie McGinnis Wilbourn
---
Thoughts to Consider As You Raise Your Child
Remember that a child is a gift from God, the richest of all blessings. Do not attempt to mold him in the image of yourself, your father, your brother or neighbour. Each child is an individual and should be permitted to be himself.
Don't crush a child's spirit when he fails. Never compare him with others who have outshone him.
Remember that anger and hostility are natural emotions. Help your child to find socially acceptable outlets for these normal feelings or they may turn inward and erupt in the form of physical or mental illness.
Discipline your child with firmness and reason. Don't let your anger throw you off balance. If he knows you are fair you will not lose his respect or love. Always make sure the punishment fits the crime. Even the youngest child has a keen sense of justice.
Remember that each child needs two parents. Present a united front. Never join with your child against your mate. This can create in your child emotional conflicts. It can also create feelings of guilt, confusion and insecurity.
Do not hand your child everything his little heart desires. Permit him to know the trill of earning and the joy of achieving. Grant him the greatest of all satisfactions – the pleasure that comes with personal accomplishment.
Do not set yourself up as the epitome of perfection. This is a difficult role to play 24 hours a day. You will find it easier to communicate with your child if you let him know that mom and dad err, too.
Don't make threats in anger, or impossible promises when you are in a generous mood. Threaten or promise only that which you can live up to. To a child, a parent's word means everything. The child who has lost faith in his parents has difficulty believing in anything.
Do not smother your child with superficial manifestation of "love". The purest and healthiest love expresses itself in day-in, day-out training which breeds self confidence and independence.
Teach your child there is dignity in hard work, whether it is performed with callused hands that shovel coal or skilled fingers that manipulate surgical instruments. Let him know a useful life is a blessed one and a life of ease and pleasure-seeking is empty and meaningless.
Do not try to protect your child against every small blow and disappointment. Adversity strengthens character and makes us compassionate. Trouble is the great equalizer. Let him learn it.
Teach your child to love the Creator and to love all his fellow man. Don't send your child to a place of worship – take him there. Children learn from example. Telling him something is not teaching him. If you give your child a deep and abiding faith in God, it can be his strength and his light when all else fails.
If you are a single parent, surround yourself by loving and supportive friends, role models for your child. It takes a whole community to raise a child.
-Unknown Author
---
What Actually Love Is
Why do we close our eyes when we sleep? When we cry?
When we imagine? When we kiss?
This is because the most beautiful things in
the world are unseen.
We are all a little weird and life's a little weird
and when we find someone whose weirdness
is compatible with ours,
we join up with them and fall in
mutual weirdness and call it love.
There are things that we never want to let go of,
people we never want to leave behind,
but keep in mind that letting go isn't the end of the world,
it's the beginning of a new life.
Happiness lies for those who cry, those who hurt,
those who have searched and those who have tried.
For only they can appreciate the importance of the people
who have touched their lives.
A great love? It's when you shed tears and still
you care for him,
it's when he ignores you and still you long for him.
It's when he begins to love another and yet you still smile
and say I'm happy for you.
If love fails, set yourself free,
let your heart spread its wings and fly again.
Remember you may find love and lose it, but when love dies,
you never have to die with it.
The strongest people are not those who always win
but those who stand back up when they fall.
Somehow along the course of life,
you learn about yourself and realize
there should never be regrets,
only a lifelong appreciation of the choices you've made.
A true friend understands when you say, I forgot,
waits forever when you say, just a minute,
stays when you say leave me alone,
opens the door even before you knock and says can I come in?
Loving is not how you forget but how you forgive,
not how you listen but how you understand,
not what you see but how you feel,
and not how you let go but how you hold on.
It's more dangerous to weep inwardly rather than outwardly.
Outward tears can be wiped away while secret tears scar forever.
In love, very rarely do we win
but when love is true, even if you lose,
you still win just for having the tingle of loving someone
more than you love yourself.
There comes a time when we have to stop loving someone
not because that person has stopped loving us
but because we have found out
that they'd be happier if we let go.
It's best to wait for the one you want than settle for one that's available.
Best to wait for the one you love than one who is around.
Best to wait for the right one
because life is too short to waste on just someone.
Sometimes the one you love turns out to be the one who hurts you the most,
and sometimes the friend who takes you into his arms
and cries when you cry
turns out to be the love you never knew you wanted.
If you really love someone never let go,
don't believe that letting go means that you love best,
instead fight for your love,
that's what true love is.
Laugh to your heart's content; you cannot go
through life without it.
---
The Awakening 

There comes a time in your life when you finally get it… When in the midst of all your fears and insanity you stop dead in your tracks and somewhere the voice inside your head cries out- ENOUGH!
Enough fighting and crying or struggling to hold on. And, like a child quieting down after a blind tantrum, your sobs begin to subside, you shudder once or twice, you blink back your tears and through a mantle of wet lashes you begin to look at the world from a new prospective. This is your awakening.
You realize that it is time to stop hoping and waiting for something, or someone, to change or for happiness, safety and security to come galloping over the next horizon.
You come to terms with the fact that there aren't always fairytale endings (or beginnings for that matter) and that any guarantee of "happily ever after" must begin with you. Then a sense of serenity is born of acceptance.
So you begin making your way through the reality of today rather than holding out for the promise of tomorrow. You realize that much of who you are, and the way you navigate through life is, in great part, a result of all the social conditioning you've received over the course of a lifetime. And you begin to sift through all the nonsense you were taught about:
­ how you should look and how much you should weigh
­ what you should wear and where you should shop
­ where you should live or what type of car your should drive
­ who you should sleep with and how you should behave
­ who you should marry and why you should stay
­ the importance of bearing children or what you owe your family
Slowly you begin to open up to new worlds and different points of view. And you begin reassessing and redefining who you are and what you really believe in. And you begin to discard the doctrines you have outgrown, or should never have practiced to begin with.
You accept the fact that you are not perfect and that not everyone will love, appreciate or approve of who or what you are… and thats OK… they are entitled to their own views and opinions. And, you come to terms with the fact that you will never be a size 5 or a perfect 10….
Or a perfect human being for that matter… and you stop trying to compete with the image inside your head or agonizing over how you compare. And, you make peace with the woman in the mirror and you learn to give her the same unconditional love and support you give so freely to others. Then a sense of confidence is born of self-approval.
And, you stop maneuvering through life merely as a consumer hungry for your next fix, a new dress, another pair of shoes or looks of approval and admiration from family, friends or even strangers who pass by.
Then you discover that it is truly in giving that we receive[1]… and that the joy and abundance you seek grows out of the giving. And you recognize the importance of creating & contributing rather than obtaining & accumulating.
And you give thanks for the simple things youve been blessed with, things that millions of people upon the earth can only dream about a full refrigerator, clean running water, a soft warm bed, the freedom of choice and the opportunity to pursue your own dreams.
And you begin to love and to care for yourself. You stop engaging in self-destructive behaviors including participating in dysfunctional relationships. You begin eating a balanced diet, drinking more water and exercising.
And because youve learned that fatigue drains the spirit and creates doubt and fear you give yourself permission to rest. And just as food is fuel for the body, laughter is fuel for the spirit and so you make it a point to create time for play.
Then you learn about love and relationships, how to love, how much to give in love, when to stop giving and when to walk away. And you allow only the hands of a lover who truly loves and respects you to glorify you with his touch.
You learn that people dont always say what they mean or mean what they say, intentionally or unintentionally and that not everyone will always come through and interestingly enough, its not always about you.
So, you stop lashing out and pointing fingers or looking to place blame for the things that were done to you or werent done for you. And you learn to keep your Ego in check and to acknowledge and redirect the destructive emotions it spawns; anger, jealousy and resentment.
You learn how to say I was wrong and to forgive people for their own human frailties. You learn to build bridges instead of walls and about the healing power of love as it is expressed through a kind word, a warm smile or a friendly gesture.
And, at the same time, you eliminate any relationships that are hurtful or fail to uplift and edify you. You stop working so hard at smoothing things over and setting your needs aside.
You learn that feelings of entitlement are perfectly OK and that it is your right to want or expect certain things. And you learn the importance of communicating your needs with confidence and grace. You learn that the only cross to bear is the one you choose to carry and that eventually martyrs are burned at the stake.
Then you learn to distinguish between guilt, and responsibility and the importance of setting boundaries and learning to Say NO. You learn that you dont know all the answers, its not your job to save the world and that sometimes you just need to Let Go.
Moreover, you learn to look at people as they really are and not as you want them to be and you are careful not to project your neediness or insecurities onto a relationship. You learn that you will not be, more beautiful, more intelligent, more lovable or important because of the man on your arm or the child that bears your name.
You learn that just as people grow and change, so it is with love and relationships and that that not everyone can always love you the way you would want them to.
And you stop appraising your worth by the measure of love you are given. And suddenly you realize that its wrong to demand that someone live their life or sacrifice their dreams just to serve your needs, ease your insecurities, or meet your standards and expectations.
You learn that the only love worth giving and receiving is the love that is given freely without conditions or limitations. And you learn what it means to love. So you stop trying to control people, situations and outcomes.
You learn that alone does not mean lonelyand you begin to discover the joy of spending time with yourself and on yourself. Then you discover the greatest and most fulfilling love you will ever know. Self Love. And so, it comes to pass that through understanding your heart heals; and now all new things are possible.
Moving along, you begin to avoid Toxic people and conversations. And you stop wasting time and energy rehashing your situation with family and friends. You learn that talk doesn't change things and that unrequited wishes can only serve to keep you trapped in the past. So you stop lamenting over what could or should have been and you make a decision to leave the past behind.
Then you begin to invest your time and energy to affect positive change. You take a personal inventory of all your strengths and weaknesses and the areas you need to improve in order to move ahead, you set your goals and map out a plan of action to see things through.
You learn that life isnt always fair and you dont always get what you think you deserve and you stop personalizing every loss or disappointment. You learn to accept that sometimes bad things happen to good people and that these things are not an act of God… but merely a random act of fate.
And you stop looking for guarantees because you've learned that the only thing you can really count on is the unexpected and that whatever happens, you'll learn to deal with it.
And you learn that the only thing you must truly fear is the great robber baron of all time FEAR itself. So you learn to step right into and through your fears because to give into fear is to give away the right to live life on your terms.
You learn that much of life truly is a self-fulfilling prophecy and you learn to go after what you want and not to squander your life living under a cloud of indecision or feelings of impending doom.
Then, YOU LEARN ABOUT MONEY… the personal power and independence it brings and the options it creates. And you recognize the necessity to create your own personal wealth.
Slowly, you begin to take responsibility for yourself by yourself and you make yourself a promise to never betray yourself and to never ever settle for less than your hearts desire. And a sense of power is born of self-reliance.
And you live with honor and integrity because you know that these principles are not the outdated ideals of a by-gone era but the mortar that holds together the foundation upon which you must build your life.
And you make it a point to keep smiling, to keep trusting and to stay open to every wonderful opportunity and exciting possibility. Then you hang a wind chime outside your window to remind yourself what beauty there is in Simplicity.
Finally, with courage in your heart and with God by your side you take a stand, you FAKE a deep breath and you begin to design the life you want to live as best as you can.
A word about the Power of Prayer: In some of my darkest, most painful and frightening hours, I have prayed not for the answers to my prayers or for material things but for my God to help me find the strength, confidence and courage to persevere; to face each day and to do what I must do.
Remember this: You are an expression of the almighty. The spirit of God resides within you and moves through you. Open your heart, speak to that spirit and it will heal and empower you.
My Godhas never failed me.
Copyright © 1999 Sonny Carroll. All Rights Reserved. [1] Excerpt from the prayer of St. Francis of Assisi.
---
Unconditional Love
I love you as you are, as you seek to find your own special way to relate to the world, or the way you feel that is right for you. It is important that you are the person you want to be and not someone that I or others think you should be.
I realize that I cannot know what is best for you although perhaps sometimes I think I do. I've not been where you have been , viewing life from the angle that you have. I do not know what you have chosen to learn, how you have chosen to learn it with or in what time period. I have not walked life looking through your eyes, so how can I know what you need?
I allow you to be in the world without a thought or word of judgment from me about the deeds you undertake. I see no error in the things you say and do, in this place where I am. I see that there are many ways to perceive and experience the different facets of our world. I allow, without reservation the choices you make in each moment.
I make no judgment of this, for if I were to deny your right to evolution then I would deny that right to myself and all others. To those who would choose a way I cannot walk, whilst I may not choose to add my power and my energy to this way, I will never deny you the gift of Love that God has bestowed within me for all creation, as I love you so I shall be loved, as I sow, so shall I reap.
I allow you the universal right of free will to walk your own path, creating steps or to sit awhile if that is what is right for you. I will make no judgement of these steps, whether they are large or small, nor light or heavy or that they lead up or down, for this is just my viewpoint.
I see you do nothing and judge it to be unworthy and yet it may be that you bring great healing as you stand blessed by the light of God.
I cannot always see the higher picture of divine order. For it is the inalienable right of all life to choose their own evolution and with great love I acknowledge your right to determine your future. In humility,
I bow to the realization that the way I see is best for me but does not have to mean that it is also right for you. I know that you are led as I am, following the inner excitement to know your own path.
I know that many races, religions, customs, nationalities and beliefs within our world bring us great richness and allow us the benefit of teachings of such diverseness. I know we each learn in our own unique way in order to bring that love and wisdom back to the whole.
I know that if there were only one way to do something, there would need to be only one person. I will not only love you if you behave in a way I think you should, or believe in those things I believe in, I understand you are truly my brother and sister though you may have been born in a different place and believe in another God than I.
The love I feel is for all of God's world. I know that every living thing is part of God and I feel a love deep with every person, and all trees, and flowers, every bird, river, ocean and for all the creatures in all the world. I live my life in loving service, being the best me I can, becoming wiser in the perfection of divine truth, becoming happier in the joy of unconditional love.
–Sandy Stevenson

---

Guaranteed to make you smile….
Disclosure:  We found out this story about Neil Armstrong is not true. But, enjoy it anyway.
On July 20, 1969, as commander of the Apollo 11 Lunar Module, Neil Armstrong was the first person to set foot on the moon. His first words after stepping on the moon, "That's one small step for a man, one giant leap for mankind," were televised to Earth and heard by millions.
Just as he reentered the lander, he made the enigmatic remark: "Good luck, Mr. Gorsky." Many people at NASA thought it was a casual remark concerning some rival Soviet Cosmonaut. However, upon checking, there was no Gorsky in either the Russian or American space program.
Over the years many questioned Armstrong as to what the "Good luck, Mr. Gorsky" statement meant, but Armstrong always just smiled. On July 5, 1995, in Tampa Bay, Florida, while answering questions following a speech, a reporter brought up the 26 year old question to Armstrong. This time he finally responded. Mr. Gorsky had died and so Neil Armstrong felt he could answer the question.
In 1938 when he was a kid in a small Midwest town, he was playing baseball with a friend in the backyard. His friend hit a fly ball, which landed in his neighbour's yard by the bedroom window. His neighbours were Mr. and Mrs. Gorsky.
As he leaned down to pick up the ball, young Armstrong heard Mrs. Gorsky shouting at Mr. Gorsky, "Sex! You want sex?! You'll get sex when the kid next door walks on the moon!"
---
The Emperor's Seed
An emperor in the Far East was growing old and knew it was time to choose his successor. Instead of choosing one of his assistants or his children, he decided something different.
He called young people in the kingdom together one day. He said, "It is time for me to step down and choose the next emperor. I have decided to choose one of you."
The kids were shocked! But the emperor continued. "I am going to give each one of you a seed today, one very special seed. I want you to plant the seed, water it and come back here one year from today with what you have grown from this one seed. I will then judge the plants that you bring, and the one I choose will be the next emperor!"
One boy named Ling was there that day and he, like the others, received a seed. He went home and excitedly told his mother the story. She helped him get a pot and planting soil, and he planted the seed and watered it carefully.
Every day he would water it and watch to see if it had grown. After about 3 weeks, some of the other youths began to talk about their seeds and the plants that were beginning to grow. Ling kept checking his seed, but nothing ever grew. 3 weeks, 4 weeks, 5 weeks went by. Still nothing.
By now, others were talking about their plants but Ling didn't have a plant, and he felt like a failure. 6 months went by; still nothing in Ling's pot. He just knew he had killed his seed. Everyone else had trees and tall plants, but he had nothing.
Ling didn't say anything to his friends. He just kept waiting for his seed to grow. A year finally went by and all the youths of the kingdom brought their plants to the emperor for inspection.
Ling told his mother that he wasn't going to take an empty pot but his Mother said he must be honest about what happened. Ling felt sick to his stomach, but he knew his Mother was right.
He took his empty pot to the palace. When Ling arrived, he was amazed at the variety of plants grown by the other youths. They were beautiful, in all shapes and sizes.
Ling put his empty pot on the floor and many of the other kinds laughed at him. A few felt sorry for him and just said, "Hey nice try."
When the emperor arrived, he surveyed the room and greeted the young people. Ling just tried to hide in the back. "My, what great plants, trees and flowers you have grown," said the emperor. "Today, one of you will be appointed the next emperor!"
All of a sudden, the emperor spotted Ling at the back of the room with his empty pot. He ordered his guards to bring him to the front. Ling was terrified. "The emperor knows I'm a failure! Maybe he will have me killed!"
When Ling got to the front, the Emperor asked his name. "My name is Ling," he replied. All the kids were laughing and making fun of him. The emperor asked everyone to quiet down.
He looked at Ling, and then announced to the crowd, "Behold your new emperor! His name is Ling!" Ling couldn't believe it. Ling couldn't even grow his seed. How could he be the new emperor?
Then the emperor said, "One year ago today, I gave everyone here a seed. I told you to take the seed, plant it, water it, and bring it back to me today.
But I gave you all boiled seeds, which would not grow. All of you, except Ling, have brought me trees and plants and flowers. When you found that the seed would not grow, you substituted another seed for the one I gave you.
Ling was the only one with the courage and honesty to bring me a pot with my seed in it. Therefore, he is the one who will be the new emperor!"
If you plant honesty, you will reap trust.
If you plant goodness, you will reap friends.
If you plant humility, you will reap greatness.
If you plant perseverance, you will reap victory.
If you plant consideration, you will reap harmony.
If you plant hard work, you will reap success.
If you plant forgiveness, you will reap reconciliation.
If you plant openness, you will reap intimacy.
If you plant patience, you will reap improvements.
If you plant faith, you will reap miracles.
But:
If you plant dishonesty, you will reap distrust.
If you plant selfishness, you will reap loneliness.
If you plant pride, you will reap destruction.
If you plant envy, you will reap trouble.
If you plant laziness, you will reap stagnation.
If you plant bitterness, you will reap isolation.
If you plant greed, you will reap loss.
If you plant gossip, you will reap enemies.
If you plant worries, you will reap wrinkles.
If you plant sin, you will reap guilt.
So be careful what you plant now, it will determine what you will reap tomorrow.
The seeds you now scatter will make life worse or better your life or the ones who will come after. Yes, someday, you will enjoy the fruits, or you will pay for the choices you plant today.
~ Author Unknown ~
If you know other people who is having a tough time,
send them a good motivational or inspirational poem for a daily dose of motivation. Or you can just forward this page .
Click here for More Inspirational Poems
The reality is, these Motivational poems have been around for ages. The wise people of ancient times used motivational poems to uplift and inspire the world. If you know other people who are having a tough time, send them a good motivational poem for a daily dose of inspiration. Or you can just forward this page to them. Sometimes when adversity hits hard, we need something inspirational and motivational to rekindle our spirits and cheer us up. You see, unselfish and caring people love to share.
Finally, if you are looking for an inspirational speaker to inspire your audience, feel free to contact us
Learn How To Master The Art Of Public Speaking