Mr. Amihere The Great Grand Son Of Former Africa's Most Powerful King Was Installed As King Kaku Aka III of Nzema, Ghana
Click Here To Learn More
King Kaku Aka III of Nzema Ghana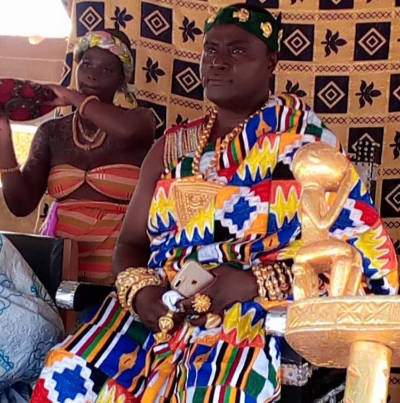 June 1, 2014 – A-fifty-one-year old man from Awiaso Mr. Isaac Ettie Amihere has been installed as the King of Nzema land under the stool name King Kaku Aka III
The installation follows the demise of his uncle quite recently who had been enstooled as King Kaku Aka 11 after the great Nzema King who was captured by British colonialists into captivity at the Cape Coast castle.
Mr. Isaac Ettie Amihere, is currently the Project Coordinator in charge of Small and Medium Enterprises(SMEs) Local Content Policy in the Oil and Gas industry.
At an impressive ceremony at Awiaso in the Ellembelle District,King Kaku Aka III solemnly took the coronation oath, the oath of office, oath of secrecy and allegiance after being paraded in a palanquin amidst brass band music through the principal streets of Awiaso in the Ellembelle District of the Western Region.
Addressing the paramountcies, the divisional and sub-chiefs, sons and daughters in Nzema land, king Aka III pledged to settle all outstanding chieftaincy and land disputes in the area to pave way for accelerated development
Pursuant to this, his outfit will flip through the archives to ensure that the divine right of chieftaincy and kingship are not compromised so that prospective heirs ascend the stools and thrones.
He noted that the area abounds in natural resources such as gold, oil, gas, cement and others and urged "nananom" and their subjects to foster peace and unity to harness the resources.
The King said he is poised for the reconstruction of Nzema land and its past glories and appealed to the people to refrain from wars, bitterness, animosity, disunity and forge ahead as one people to spearhead the development of the area.
King Kaku Aka told the gathering that he will lead a delegation of traditional rulers and opinion leaders to meet President John Dramani Mahama at the flagstaff house to make a case for the rapid development of Nzemaland.
As part of his development agenda, the king placed on record that he will organize an Nzema Economic Forum (NZEF) of eminent personalities such as traditional rulers, the clergy, the media,Members of Parliament(MPs),DCEs and other think tanks to dialogue on the forward march to Nzema's progress.
An Nzema-manle scholarship scheme will be set up to take care of needy but promising students in the pursuit of higher education and take advantage of emerging opportunities in the area.
King AKa III promised to bring the body of his late grandfather,King Kaku Aka 1 from the Cape Coast castle for burial and funeral obsequies.
The Chief of Awiaso, Nana Akpanyi Armoo implored the King to use his expertise to settle the numerous chieftaincy and land disputes pending before the courts to spearhead development.
Most of the traditional rulers pledged their support for the King to experience a successful and eventful reign in office.